We know sport fishing! Our Dana Point Fishing Captains are among a small group of local fishermen who have grown up fishing on the waters off Southern California, Our success is built around knowledge of our local waters. We are experts in locating fish both near shore and offshore. We specialize in targeting a wide range of fish including Bluefin and Yellowfin Tuna, Dorado, Shark, Halibut, Bass, Yellowtail, Rock Cod, Wahoo, Marlin, and just about anything else that ventures into our waters.
Come experience what private fishing is all about! Our fishing fleet prides itself on catching fish year round. We cater to beginners as well as the seasoned fishermen. Our Captains know how to find fish no matter what time of year.
We provide top of the line fishing equipment and tackle on all our boats. We are part of Accurate Reel's Guide Program – they keep us well-equipped with the latest gear. We carry a large variety of rods and reels so we are prepared for any fish that comes our way.
Drop us a line and let's go catch some fish!!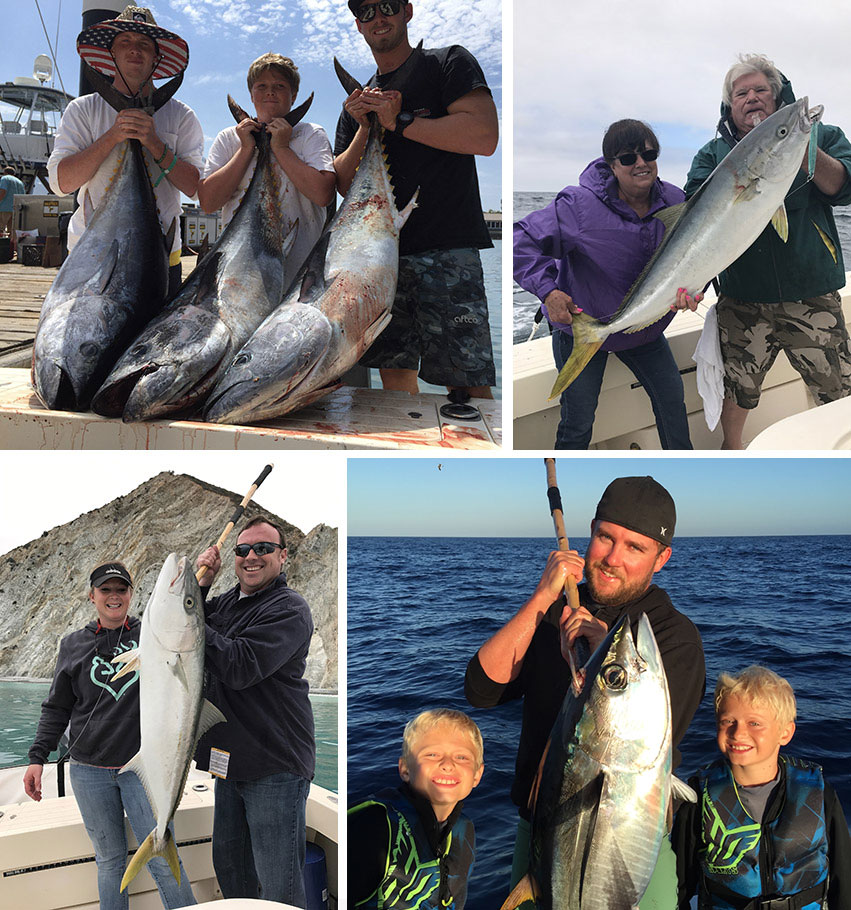 What Fish are caught in what month?
January – Yellowtail, Halibut, Sculpin, Calico bass
February – Yellowtail, White Sea Bass, Halibut, Variety of Bass
March – Yellowtail, Sharks, Rock Fish (cod) White Sea Bass, Calico Bass, Sand Bass
April – Yellowtail,  Halibut, Sheephead, Blue Perch, White Sea Bass, Sharks, Squid
May – Yellowtail, White Sea Bass, Barracuda, Cod, Variety of Bass
June – Yellowtail, Bonito, Halibut, Blue Fin
July – Bluefin Tuna, Yellowfin Tuna, Dorado, Yellowtail, Marlin
August – Bluefin Tuna, Yellowfin Tuna, Dorado, Yellowtail, Marlin
September – Tuna, Yellowtail, Dorado, Marlin, Sharks
October – Tuna, Yellowtail, Dorado, Marlin, Sharks
November – Tuna, Lingcod, Yellowtail, Halibut
December – Yellowtail, Halibut, Rockfish, a variety of bass